This recording is from March, 2011 in the Saginaw area of Minnesota, north of Cloquet, northwest of Duluth. Recorder was left in the woods overnight, picked up the next day in the afternoon.
As I walked up I heard a big knock and answered, did not get a return. I went up to my recorder, picked it up, took it home.
I didn't see or hear anyone else out there, but when I listened back I could tell that there had been "voices," that sound exactly like children at play in the area of my recorder just before I walked up, unaware.
I will go ahead and just say that I suspect they were Sasquatch children at play and that when they heard the knock warning they left.
I will also say that there is a path that sometimes has horses, riders, and there is a river within a quarter mile, but it was cold, too early and too cold for anyone to be playing in the river, and I did not see any people with horses.
And there is a house in the area, but from what I have found out they do not have children. I have also judged many times as I have been back to the area and the house is just too far, in my opinion, for the up-close sound of children to have been picked up by my recorder.
So, if you will take about ten minutes or a little more to listen, you will hear airplanes, geese, something close to the recorder, knocking, and you will hear children playing, perhaps Sasquatch children.
The Bigfoot Chronicles:3
My narrative of my Bigfoot experiences over several years.
_______________________________________
Photos taken at Jay Cook State Park in Minnesota, ca. 2010 showing some sort of structures. Who made them is up to the imagination of the viewer. I was walking in the woods and came upon the first one, the biggest, most prominent, and then looked around and there were more, maybe four or five, forming a sort of circle, a perimeter. I was out there not too long ago (Sept. 2014) and they are still there, but showing wear.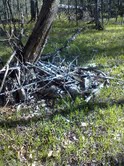 These are photos of mine of footprints I found. The first one is on a path by the St. Louis River, near Cloquet. The others were on the path at Jay Cooke Park. They could have been made by humans or Bigfoot. I don't know.
This is a recording I made at Jay Cooke Park around the time we first moved to the area from Iowa. I put out a small Walmart recorder in the woods, on the ground, with onions scattered around. I was shocked when I listened to the playback. What I hear is something tapping on the recorder and then whispering "chinka," and then a few seconds later, what I take as another individual whispering "binka," or something like that. The recording was made in daylight, in woods off the path.
This is a recording made on the Fond du Lac Reservation near Cloquet, in the "Ditchbank," area. It was in March, I think, early spring. I put out the recorder before I went to work in the early afternoon, and by the time this voice is recorded, it is dark. What I hear is a human-like voice and three clipped phrases. They are Native sounds. But it is in a remote area, in the woods, after dark. And, my question would be, do even Native Americans speak Native today in casual conversation, or do Bigfoot speak in a Native sort of tongue?
These are recordings I made in the Saginaw, MN area. The account of what occurred as well as the recordings can be found on the website of the Sasquatch Research Association: http://sasquatchresearchers.org/march-2012-minnesota-howls/
This was a recording that I got on the same night as the "chinka" "binka" whispers, same location, but this happened during the night, in a tiny valley, with a small creek running through.