I entered the Writer's Digest Self-Published Book Awards (as well as several other contests) over the summer. I did not win anything, but I did receive some kind comments from Judge 55 and I very much appreciate that and wanted to pass them along. – Mike
________________________________________
22nd Annual Writer's Digest Self-Published Book Awards

Entry Title: Camp America
Author: Mike Palecek
Judge Number: 55
Entry Category: Mainstream/Literary Fiction
Structure, Organization, and Pacing: 4
Spelling, Punctuation, and Grammar: 4
Production Quality and Cover Design: 5
Plot and Story Appeal: 5
Character Appeal and Development: 4
Voice and Writing Style: 4
Judge's Commentary:
Great cover, good details that really attract the reader's eye, and then on further view during the reading of the book, details mean even more. Well done.
Great sense of movement in the opening scene, as well as a very vivid sense of place.
Sensory details are well used throughout; author does a good job of allowing the reader to step into the book and experience it on different levels.
There is a lot of intrigue on what he's going to find in the woods. Draws the reader in, and is very well done. Reader can feel textures, see colors, smell scents, and embrace the heart-pounding of this scene.
Watch out for tiny typos, which stand out more when the writing is so good. Author has one on page 5, way too early for a typo to pop up: My ribs hurt to breath.
When typos happen early on in a book, reader becomes disappointed to see the next one, and the next, leading to a lessened view of the book. A good comb-through for typos would improve this book and allow the reader to stay within the experience, not be drawn out every time a typo occurs.
Use of lyrics and quotes at the start of chapters is very good. Reader gets to connect with the story through them. And reader looks forward to the ones to come.
The author's admitted Kerouac influence really comes through, and author needs to take care not to get too rambly in Kerouac style. Use it in careful doses, connecting thoughts and sections with a bit more transitions. Think melodic with phrasing, and that can smoothe out the jumpiness of Kerouac-style jumps from observation to observation. That said, the reader soon thinks that maybe this jumpiness of topics is due to the character's fear or an anxiety issue.
If author intended it as such, that's a terrific narrative device. But if the reader is left saying then it's not as clear as it needs to be.
Author brings in great details like the taking of spouses medications by accident, a very real human error that reader can relate to. Well done.
Inner monologue is crisp and fast-paced, which draws the reader along into the action of the book that develops. And author makes it easy to tell which section is in the POV of which character, so that's a big strength to this book.
The Bigfoot show references are a terrific element of the book, especially for readers who love those shows and know well what he's referring to with knocking and such. Author does a good job of describing these elements for those who may not know. Good job catering to the reader's understanding levels.
Great lines throughout, like I pulled out my harmonica and played my worst.
Beautiful gems like that throughout the book make this a fun read. Reader is looking for more as the story progresses. Well done.
Very realistic confusion at the game when things go awry. Author does a good job of describing with a sense of the shock and disbelief that a character would observe from. Very visceral injuries and just brutal enough without passing into the tasteless category.
Watch out for when the pace gets too frantic, such as when things REALLY go awry in the stadium. There's so much going on, so much urgency, that it can get to be too intense. Break it up with a flashback or a sense of the character disassociating with what's going on, to give the reader a brief respite and a chance to breathe.
Very authentic as a survival situation, and we see depth of character in all subsets of characters. Nicely done.
The last page is very good re: what people know.That stays with the reader, which is a sign of good storytelling.
The back cover of the book, though, should have a summary of what the book is about, not an acclaim quote about the author. Move that to the inner front and add to the back cover an engaging summary that does the book justice.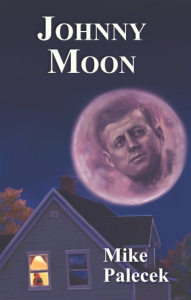 Entry Title: Johnny Moon
Author: Mike Palecek
Judge Number: 55
Entry Category: Mainstream/Literary Fiction
Structure, Organization, and Pacing: 4
Spelling, Punctuation, and Grammar: 4
Production Quality and Cover Design: 4
Plot and Story Appeal: 4
Character Appeal and Development: 4
Voice and Writing Style: 4
Judge's Commentary:
The front cover image is terrific, the big, full moon with John F Kennedy's image in it draws the reader's attention immediately.
And the figure in the window conveys a sense of deep thought and searching. Well done. The back cover would be improved by placing a summary of the book, not reviews by regular people. Reviews are best included when they're written by other authors or reviews on Library Journal or the media. Without a summary, the reader's interest generated by the cover doesn't escalate into greater interest in reading the plot.
The Prologue provides a great sense of timing, giving the story a home in history. Well done.
VERY good: the old people at mass, the persons the young people were resigned to becoming.
Excellent introduction to the religious elements of the book, and the reader can relate to what being a churchgoer does with your identity, the path one takes, and the community they're in. Good setup for his relationship with the nun (who is very amusingly nicknamed, by the way.)
The quotes and lyrics at the starts of chapters are, for the most part, very well-chosen. Some are a bit puzzling, such as ˜Supercalifragilisticexpialidocious. The reader doesn't connect as well with that as with other chosen openers. Somewhere in the book should be permissions or attributions for these quotes.
The pacing is quick, making this an easier read, and the staccato nature of dialogue and lines also draws the reader along well.
The boys' banter is rapidfire and cheeky, which is a great element of the book. The reader is interested in these characters from the start, invested in seeing where their storylines go. The voice of the nun is done especially well.
We get a sense of peacefulness about her, and when she steps behind Johnny to see what he's looking at in the sky, it's a great symbol of her being behind him in his explorations of faith and life. Nicely done.
Author does a good job with light description (the sun elbowed through the January clouds) for some rich sensory detail. All settings are painted well, given sensory details like color, texture and feel. The plot then comes more to life, since the setting is layered and detailed.
Author gives good voice to characters, like ain't that right? and other dialect that rings true for the reader, differentiating characters. This little choice has a big impact.
The ending closing with sound is good, but would churchbells sound like gunfire?
A fine effort and good adventure with these memorable characters.
Entry Title: Speak English
Author: Mike Palecek
Judge Number: 55
Entry Category: Mainstream/Literary Fiction
Structure, Organization, and Pacing: 4
Spelling, Punctuation, and Grammar: 4
Production Quality and Cover Design: 4
Plot and Story Appeal: 4
Character Appeal and Development: 4
Voice and Writing Style: 4
Judge's Commentary:
The front cover image is very telling, and spookily unique, excellent choice, as well as the blue-gray color scheme conveying a sense of a cloudy future. It would be better if the title was on the top and the author's name on the bottom. A reader unfamiliar with the author might think the name of the book is ˜Mike Palacek.™
The back cover continues with the cloud color scheme, and the wording conveys a good sense of the storyline, engagingly written. The staccato lines on the back cover convey the rapid fire of this author's style. Well done.
Very good to have endorsements from authorities and recognized authors right up front; conveys a sense of excitement and anticipation for the story to come.
But the line by Jeanne Norris: "Mike Palacek can take the worst events that happen (terrorist planes crashing on purpose into the Twin Towers on 9/11) and make them hilarious" is so very offensive, no matter what your political beliefs. That alone could make a reader put this book down. For a future edition, consider removing this. The strengths of the other endorsements get lost in the terrible effect of that line.
The author uses short sentences as part of his style, but it would be an improvement to mix up sentence length more often to get a better flow while reading. Some transitions would improve the reading experience.
Characters voices and dialogue are good, but let's get some physical descriptions of them, as well as sense of movement so that they really jump off the page.
On page 29, author talks about a characters idea to start a ˜Retards Series." That word, too, is extremely offensive. Granted, author is attributing this to a character, and making the character unlikeable in the process, which seems to be the idea. Still, so early in the book and after understanding that a character using the N-word is also part of his persona, it can be a bit much for a reader to undertake comfortably.
Author does a great job describing sounds, like ˜the gravel mumbled under my tires.™ Author is skilled at sound and avoiding cliches here. Well done.
A little layout suggestion: set off chapters with a more visible, centered marking. As it stands, with the chapter numbers done in the same font as the text, they get a little bit lost.
The author allows his characters to interject strong political beliefs, but the lead-in can sometimes be awkward, like a point where the character mentions that Rosie O'Donnell is off The View and then launches right into a big statement about the Bush/Cheney conspiracy. Reader has a tough time connecting the two.
Good mix of thought and dialogue throughout. Author has not relied on either too heavily. Nice balance.
Very good revelations from the alien, that humans have a spiritual fingerprint. That part delivers a good payoff.
Reader was looking forward to what can be learned from the alien, as well as the classes of aliens in society. Good ending.
Entry Title: The Progrrressive Avenger
Author: Mike Palecek
Judge Number: 55
Entry Category: Mainstream/Literary Fiction
Structure, Organization, and Pacing: 4
Spelling, Punctuation, and Grammar: 5
Production Quality and Cover Design: 5
Plot and Story Appeal: 4
Character Appeal and Development: 4
Voice and Writing Style: 4
Judge's Commentary:
The cover design is very good, a modern design and strong illustration, with the tattoo on her stomach saying a lot. Well done.
˜The Girl Who Lived™ is very much reminiscent of Hunger Games, and reader may think of Harry Potter as the ˜boy who lived." It may be better to avoid that description, since it pulls close to cliche.
The ˜progressive" comments made by the character always needs to be balanced with humanizing, character-rounding details" including sensory details that bring a character to life on the page.
When the balance is off, we're just getting bold statements. That may work into character building and a description of the world tone they live in, but add a bit more of her and less of her mindset.
Or dial her down to more moderate; when we see her doodling swastikas, some readers may unhook from her and not develop the level of high interest in what happens to her that you want.
While it's true that a successful novel makes the reader feel something, what the reader may feel very often throughout the book is the character's anger and dissatisfaction, which can be very tiring.
There's a lot going on with many conspiracy theories mentioned which may be the characters anchors, but the reader at times feels too pulled along in rough waters. Watch out for when things speed up and pace is too rapid.
After joining the characters and feeling their dissatisfaction for so long, the reader just keeps getting hit with conspiracy topics (mammograms?) than can hit too close to home and mires the plot in talk of anger, suspicion and hate that is again too dialed up.
We need balance so that these topics DO resonate and we engage with the character's hero journey.
We need a balance of good and bad in characters, so that they're as fleshed-out as the scenery, which the author does a terrific job of illustrating. We get sounds and textures in the scenery, so we're present. Sensory details are essential for a book that contains so many issues and goes to some dark places at times.
Rounds out well, and author does a great job of giving this a satisfying, natural closure, not leaving the reader hanging in any way. Characters are memorable, and author does a good job of creating resonance. The plot stays with the reader long after the book is done.